The MAC is Back In-Person! Ready to Reach Your Audience? Our Team is putting the final touches on the in-person return of the National Capital Area Chapter's flagship conference, Wednesday, October 12th in Tysons Corner, Virginia. What's in it for you?  Here are five reasons why sponsoring the MAC helps you reach your business goals: 1) Sponsor the MAC and Get Your Brand Out There Industry veteran? New to the industry? Your goal is to get your brand out there and in the mouths of potential customers. By Sponsoring the MAC, people will know who you are, what you offer and what you stand for. They will in turn spread the word amongst their network.   Bottom line; build familiarity, build trust, and grow with a MAC Sponsorship. 2) Sponsor the MAC and Reach Your Audience In-person networking is back, and people are venturing out in greater numbers since 2020. Time
Republished from our corporate Partner BZ Opportunity Management. Visit their site at https://www.bzopportunity.com/ Multiple award Indefinite Delivery Indefinite Quantity (IDIQ) contracts provide large and small companies with a critical tool for long-term corporate success. The limited field and pre-approval provide holders a great opportunity to quickly expand their experience. However, many small firms are justifiably concerned about the heavy lift required to put together a compliant, winning proposal. There are three key pieces of advice
This article is reprinted here with permission in collaboration with our corporate partner Xait. Visit Xait's blog at https://www.xait.com/resources/blog Five Tips for Collaborating Across Team Boundaries Sales. Products. Services. Proposals. Team boundaries differentiate one workgroup from another, defining our common tasks and focusing on our shared objectives. When it comes to developing proposals, however, we are better when we work together. For proposal teams, who work across these boundaries every day, the key is collaboration.
This article was originally published May 4, 2022 on Team Patri's blog - https://gopatri.com/pro-insights/2022/5/03/go-no-go-decisions-101. Go/No-Go Decisions 101 Professional poker players say the most crucial factor to their success is knowing when to play a hand and when to fold it. Poker players look at the available information, calculate the odds of success, and use this data to make quick decisions to play or pass. Similarly, the best proposal managers would tell you that the most
APMP had its flagship celebration this past week in Dallas, TX, and although I had an opportunity to be one of almost 1,000 attendees, at the last minute I decided not to take it. I was already traveling a lot in May and spending too much time away from my family,  so I ultimately decided to sit this one out. After missing events for 2-3 years due to COVID, I thought what's another year? There's
No one wants to lose, and no one wants to talk about losing. It is like talking about death. But failure can be an effective teacher. Most proposals are losing proposals—a statistical fact that is often ignored. But this does not mean that the participants are losers. Consider the career of Mike Krzyzewski (Coach K), a basketball legend who inspires his players to greatness. Under his direction, the Duke University basketball program has become one
Originally published on APMP's blog, Winning the Business https://winningthebusiness.com/proposal-coordinator-commandments/ Proposal coordinators are often overlooked, but the value they can bring to a team is instrumental in enabling the proposal manager to manage the bid process most efficiently from start to finish. Sure, a coordinator's role is to assist the proposal manager, but what does that really mean? What differentiates a good coordinator from a great one? There are five "commandments" that every coordinator should follow
Originally published on LinkedIn, republished here with the author's permission: https://www.linkedin.com/pulse/thinking-outside-box-art-science-govcon-marketing-mark-amtower/ What is "outside of the box thinking"? I have been in too many meetings where an executive will say something like "Our marketing is stale. We need some outside-the-box thinking." Often this is the result of seeing or reading about success B2B or B2C marketing in a book or business magazine, or in one instance I can think of, a CEO sitting next to
Members, please help us shape the APMP National Capital Area (NCA) chapter! Have you seen our survey in your inbox? Who is the APMP-NCA Chapter? If you're located in the mid-Atlantic region of the United States, you're in luck. The Association of Proposal Management Professionals - National Capital Area (APMP-NCA) is the second largest of APMP's 28 worldwide chapters. We're here to support your success. We are located in the metropolitan Washington, DC area —
Originally posted on Lohfeld Consulting's blog - Resumes for the Win. Resumes are the least appreciated proposal section. Proposal Managers often delegate resume writing to inexperienced writers. Writers create resumes without understanding how to interview the proposed key or non-key personnel for winning content and without understanding the proposed solution. Proposal reviewers frequently spend little time on resume review. Yet, resumes may provide discriminating Strengths that result in the win. Exceeding Requirements In a best
Originally posted on Winningthebusiness.com. In today's market, we are all competing for proposal talent, and it's not always easy to find the right fit. Our industry has historically been one where people have "fallen into" it, rather than choosing proposal management as an intentional career path. Proposal management isn't a college major, so most students don't even know our industry exists, which means that when they graduate and start sending out resumes, they don't know
Originally published on February 14, 2020 as an article on LinkedIn. How many remote jobs have you discovered for technical roles? Software developers, app engineers, and system architects seem to have it made when it comes to remote work. When it comes to marketing and proposal writing, though, many companies draw a firm line in the sand: You must be able to physically commute to our office. I'm confused by this mentality. I've been writing
Past eZine Issues, prior to June 2018, are available in the Body of Knowledge as PDFs.  Temporarily, the files are here.
APMP-NCA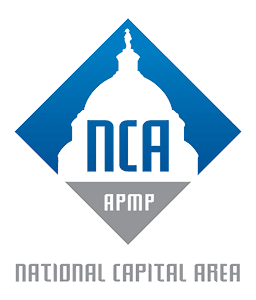 P.O. Box 711
Arlington, VA 22216-0711
www.apmpnca.org
A Publication of the Association of
Proposal Management Professionals
National Capital Area Chapter