It's that time of year again! Time for APMP Bid and Proposal Conference (BPC), affectionately known as BidCon…time for reconnecting with old friends, networking with new colleagues, and discovering what's new in the dynamic world of proposal management.
Last year we talked about meeting new people, and how "always be introducing" helps us thrive at networking. How owning our space helps us own our power. How joining a random lunch table tells people we have something to offer. And how rescuing the TARA wallflowers tells people that we're curious about them and what they think.
This year it's all about our entrance. If walking into a room full of unfamiliar people makes your heart flutter, don't worry, me too. So I'm taking a page from my previous life in the theater to bring you five tips for making an entrance – and how it helps us control our nerves, boost our confidence and make positive first impressions.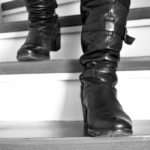 #1 Walk with Purpose
People who walk with purpose demonstrate confidence. If we pause at the door, uncertain, and look at our feet, our doubt shows in our body language. Instead, pick a purpose before walking into the space. Find a friend? Find a Session Speaker? Grab a coffee? Walk in and do that first.
Example: See John Travolta as Tony Manero in "Saturday Night Fever"
#2 Make a First Impression
People who make eye contact demonstrate interest. If we start by nervously looking around for someone we know, our body language tells people we're not interested. Instead, give the space a sweeping gaze, make eye contact and smile. This gives our entrance even greater purpose, and it sparks connections to explore later.
Example: See Tom Cruise as Jerry McGuire in "Jerry McGuire"
#3 Give a Quick Signal
People who follow up eye contact with a "signal" are more likely to connect. If we make eye contact and dart away, we come across as dismissive. Instead, add a quick nod or a wave to eye contact. Even if we don't know them yet, it's a great nonverbal cue of openness.
Example: See Jason Sudeikis as Ted Lasso in "Ted Lasso"
#4 Be Present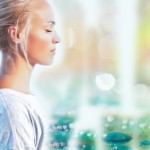 People who are present and in the moment, catch communication nuances. If we make an entrance on "auto-pilot," in our own heads, evaluating and worrying, we're more likely to miss something and make false assumptions. Instead, breathe and take in the surroundings. How many people are in the room? How many tables and chairs? How many windows? When we stop to consider our surroundings, we turn off the "auto-pilot" and connect with the now.
Example: See Octavia Spencer as Dorothy Vaughan in "Hidden Figures"
#5 Stock up on Conversation Starters
People who carry a few conversation starters in their back pockets have honest conversations. If we're shy and don't know how to begin, we face an awkward silence. Instead, here are five conversation starters to get the ball rolling:
What did you learn this morning? Any good tips?
I enjoyed your presentation today. Mind if I join you?
If you were giving a presentation, what would you discuss?
What sessions look good for this afternoon?
What's your biggest proposal challenge?
Example: See Julia Roberts as Erin Brockovich in "Erin Brockovich"
Remember, how often do we have the opportunity to network with just about everyone in our industry? Controlling our entrance and making a positive first impression is a powerful tool. It gives us an edge in shaping how others perceive us, and that helps pave the way to conversation. And the more we talk, the more we connect, and that is exactly why we attend APMP BPC!
Do you know APMP-NCA? The National Capital Area Chapter is 1,000+ members strong with a broad set of proposal and capture management expertise and deep experience in the Federal and Public Sector industries. If you're working in these sectors, please stop by the National Capital Area Chapter's booth at APMP BPC in Orlando and meet our team!