In March, APMP-NCA held its annual Capture Power Breakfast – an informative and engaging morning of strategy and networking with DMV federal and civilian capture management experts. The sold-out event, back in person for the first time since 2019, included eleven speakers sharing insights on today's most pressing capture topics; everything from competitive intelligence and pricing to Gamestorming.
What's the competition's strategy? What does the program plan need to achieve? What is the most meaningful value to the customer? It's no secret that capture management is key to winning in today's competitive environment.
APMP-NCA President, Ros Angus, Director, Business Development at Cella, kicked off the morning with opening remarks, thanking the speakers and congratulating the event organizers on the return of this eagerly anticipated event, now in an action-packed 3-phase format.
Keynote Speaker Sam Lewis, Chief Growth Officer at Qinetiq, brought his capture and growth insights on defense intelligence, technology and capture. He shared a great story about the leatherback turtle's migration, and tied it to the need for business transformation and innovation.
Next up was a Panel Discussion moderated by Jennifer Namvar, CEO at The Peerless Group:
Dr. Shanthy Edward, Chief Growth Officer, Arbor Research Collaborative for Health

Gerald Gaskins, Senior Vice President, Strategic Capture Executive, Leidos

Linwood Walton, Senior Capture Manager, CACI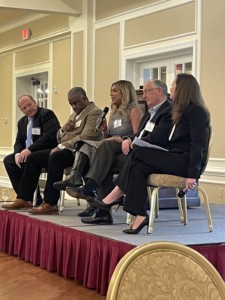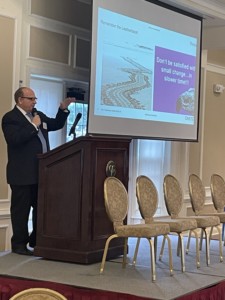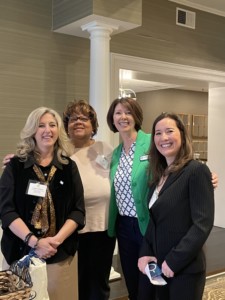 A few take-aways: Capture is not a process, it's not just about info, it's about mobilizing people; get started by showing up, leaning in, bringing your expertise and putting yourself in a position to voice your experience; don't limit your source information, get as many opinions as there are people; create value by helping people get from here to there; and work to get everyone involved in the win mindset!
The APMP-NCA team rounded out the day with Rotating Table Discussions and an opportunity to network and strategize.
Ricki Henschel, Coach, Consultant on Gamestorming – a Tactic to Get Out of Your Own Way

Robert Lohfeld, CEO, Lohfeld Consulting Group on Strength-Based Winning: Lessons Learned from the GAO Protest Docket

Chris Placzek, Senior Vice President, Hinz Consulting on Rational Pricing in an Irrational World

Varis Abdullin, Managing Partner, GovLogic – GWAC Optimization

Jennifer Marion, CEO, The Peerless Group on Using Competitive Intelligence to Gain Competitive Advantage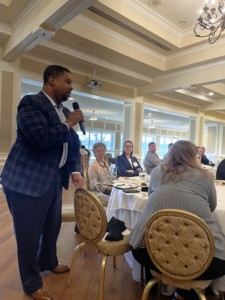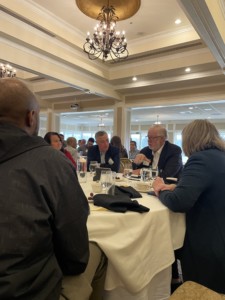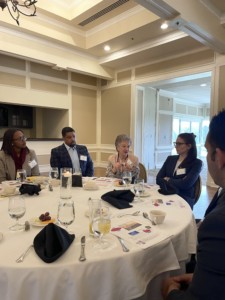 A few take-aways: The final phase of the morning provided the chance to engage directly with capture experts at the tables in timed, 20-minute sessions. This was a great opportunity to engage in dialog, ask questions and share experiences. Some of the conversations were so engaging, the bell had to be rung more than once to move on to the next table.
"Everyone at the table engaged in the back-and-forth dialogue with the capture experts," said Jennifer Namvar, "particularly around the Price-to-Win and Gamestorming talks. We also had Gerald Gaskin from the Panel at our table, so we got the benefit of additional context from a seasoned and accomplished capture veteran."
The event garnered high marks on the event survey from attendees, including 100% responding that they would attend again. 90% were extremely satisfied with the content, and many expressed their desire to see more capture management events like this in the future.
"We had a great discussion about developing proposal strengths during capture," said Robert Lohfeld, "and examined GAO protest cases about what a strength is and what it is not. Most attendees were surprised by what they learned!"
Thank you for joining us for this year's APMP-NCA Capture Power Breakfast! We hope you found it full of energy and excitement, inspiring speakers and actionable insights. Join us for our next event, Cuppa Coffee Chat, on April 18th (RSVP here!) when we'll be talking about successful interview strategies.
Follow us on LinkedIn to stay up to date on events.