This is the second installment of a two-part article about the uses and benefits of video white papers.  Part 1 appeared as the featured article of the fall issue, published in August of 2018.
"We aggressively chase RFPs… We've gotta get better at early engagement," according to a president of a $20B federal contracting firm. This is a common refrain in the federal space. Brilliant BDers, Capture Managers, and Engineers often struggle to communicate the value of their ideas early in the process. Video white papers can help to solve this problem. Videos can be used across the spectrum to shape and influence customer thinking; All the way from the so called "front end of the business" through and including adding video links in your proposal. But when is the right time for you?
How do you use video white papers and when?
The options for shaping with video white papers are limitless (style, timing, length, and focus) as is the potential to deeply influence government customers as they plan and build critical RFP elements.[intense_blockquote width="33%" rightalign="1″]Strategic Timing: Applying video white paper strategies to support the shaping cycle.[/intense_blockquote]
Best practices indicate that customer engagement and shaping should begin 18 to 24-months before the release of the RFP. Typically, our organization partners with clients to develop a video strategy to support this shaping cycle. A comprehensive approach—goals, content, impact, and release timing—is taken to arm the capture manager with powerful video white papers that can be used to influence customer thinking at critical times across the 24-month schedule.
For example, your firm's capture manager may wish to share with their government counterpart a video white paper titled "How to Develop Rock Solid Requirements" early in the shaping process. This video may demonstrate how 61% of Agile software projects fail (Standish World Chaos Report) because of a disconnect between business needs and software development teams. The video may further illustrate how your firm's professionals ask the right questions to elicit pertinent information from stakeholders and practitioners to develop accurate requirements.
A few months later, the capture manager may wish to share a video on tailoring Agile software development processes to fit the needs of a specific government agency. This video may explore previous successes and stories from the field that demonstrate how your firm's professionals overcame challenges that the customer can relate to.
Challenges[intense_blockquote width="33%" rightalign="1″]The Challenge: Buzzwords and poor production don't work![/intense_blockquote]
Poorly produced videos packed with marketing platitudes do little to influence customer thinking and differentiate your firm. This challenge is not uncommon as many technical companies in the federal space often struggle to communicate the value of their ideas. For example, when Market Advocates first meets with a new client for orals coaching, business development training, or video production, we ask a simple question:
Why is your firm different from the competition?
Typically, clients answer by saying that they have "a great team and the best Agile or Cloud experts" or that they are "effective communicators that build deep trust." In essence, answers that any competitor can claim that do nothing to differentiate your organization.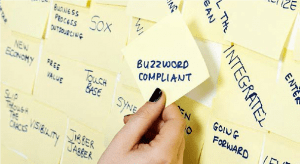 Ask yourself, "Why is my firm different?"  Can you provide an answer that passes the me-too test?
Solution
What are the frameworks you can use to differentiate your video white paper?  Differentiation lies in:
Demonstrating a deep understanding of management and technical challenges impeding mission performance
Communicating HOW to solve these challenges
Including specific solution benefits and relevant past performance.
This sounds simple, yet many firms struggle to master the elements of differentiation and substantiation.
There are companies, including Market Advocates, who will partner with your firm—discovery, facilitation, storyboarding, script development—to identify and prioritize specific government challenges and articulate technical solutions in a persuasive and easily absorbable manner. This is an analytical process that changes the way you think and communicate, shifting from a linear style to bold upfront assertions that enable your video to demonstrate insight, expertise, and the specific end user results your firm can deliver.
But, your video message must also connect with the gut (right brain) to be effective. Choose a company that has a proven team of film and design experts who can guide you in developing clean and impactful supporting materials and memorable stories that fuel customer thinking and stoke engagement.
For more information regarding video production, please view the following Market Advocates video link:
[intense_video video_type="youtube" video_url="https://www.youtube.com/watch?v=h-9lslKKMHg"]