APMP had its flagship celebration this past week in Dallas, TX, and although I had an opportunity to be one of almost 1,000 attendees, at the last minute I decided not to take it. I was already traveling a lot in May and spending too much time away from my family,  so I ultimately decided to sit this one out. After missing events for 2-3 years due to COVID, I thought what's another year? There's always next year, right?
Wrong – that was a big mistake for me.
I opened LinkedIn the weekend before BidCon and started seeing the posts of people flying into Texas. All of the posts and pictures of everyone having a great time started pouring in and did I feel like I was missing out! There were so many speakers, events, people, and sponsors that I wish I could've seen in person – not to mention the city of Dallas, TX, which I have never visited before. The venue this year was at the Gaylord Texan Convention Center – there were plenty of shots of "the canyon", and what looked like an entire village of shops inside the hotel. There were so many smiling faces, so much happiness in being back in person – it looked like a ton of fun.
Here are 10 moments I missed out on, based on what I saw my colleagues posting in Dallas:
Keynote Speaker Jackie Frieberg
On Day One, my LinkedIn feed filled up with praises for the Keynote address given by Jackie Frieberg, also known as one of the "Top 30 Best Minds on Leadership", and one of the most sought-after female business speakers. It was so well-received and left so many people inspired – and since I saw so many people posting about it, I have to ask, what was the discussion around Askhole?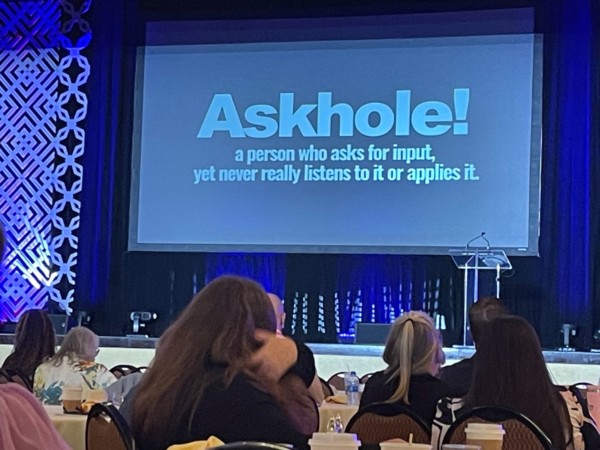 Affinity Group Meet Ups
APMP recently introduced Affinity Groups this year to high acclaim. Since the groups have started, we now have the Young Professionals, Military Veterans, Professionals of Color, and LGBTQ Affinity group that any APMP member can join. I am a member of several of these groups myself, and I was glad to hear that they all met up in person and had such engaging conversations.
Our own Events Co-chair and my good friend Sarah Miranda led the YP Affinity Group discussion – I knew that was going to be a lively discussion and I'm kicking myself for missing it. I missed out on all of it. I would've loved to have contributed to the discussion and met all of the Affinity Member Chairs  – being a member of these groups helps me feel connected to my identity, and to use that to my advantage in my professional life.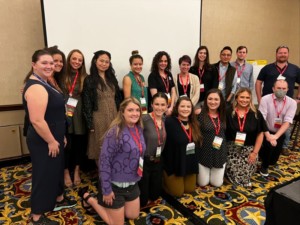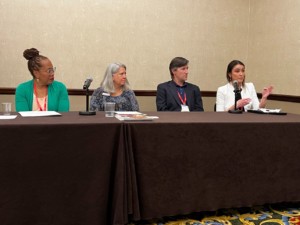 Exhibitors
We had so many of our amazing corporate sponsors representing at BPC! Some of them even pulled double duty and presented as well as manned booths in the Sponsors Exhibit Hall.
Technology and automation are essential to RFPs – they can cut so much time from things we used to do manually. I wanted to see these platforms in action!
Solutioneering: Peter Lierni featured "Technology and Innovation Suite Sponsored Session: Solution Engineering Tool (SET): Capture-as-a-Service."

,

on-demand software – an analytical tool for collaborative competitive pursuit analysis and enterprise value creation.


24 Hr Co: Mike Parkinson presented not once, not twice, but THREE times! Monday morning he presented " WIN THEM ALL: 8 Master Techniques to Make Props for ALL Evaluators", then in the afternoon he co-hosted a session with Randy Richter, "Predictable Winning: The Science of Evaluation". Tuesday, he hosted "

Technology and Innovation Suite Sponsored Session: At a Glance Proposal Graphics".

Visible Thread: Allison Ritz demonstrated how Visible Thread automates several RFP processes in her presentation "Technology and Innovation Suite Sponsored Session: Automating the 3 Critical Steps of your Proposal Process".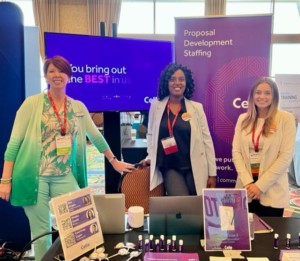 Presenters
Missing these hurt the most. Personal friends of mine speaking and I certainly would've preferred to have been there in person to give my full support. Based on the feedback I see from LinkedIn, their presentations were wonderful, chock full of information, and everything went off without a hitch. 
A HUGE cheers to the sheer amount of NCA chapter members who presented – I'm so proud to see such a large representation!:
Michelle Spencer (first-time speaker!), "Read before Red – Tips for Prioritizing Compliance" 

Neal Levene, "Agile Proposal Methods – Beyond Theory"

Yasaman Sadeghipour, "Master the Hunt: Tips for Improving Every Step of your Job Search"

Katherine Aucott, CF APMP, "Supercharge Your Proposal Management with MS Excel"

Joseph Salgado, "Coaching Your Organization to Get the Most Points in Federal Point Scoring RFPs"

Drew Jaehnig, "The Birth of a Federal RFP and How You Can be a Godparent"

Russell Smith, "How Companies Can Benefit From the Infrastructure Bill"

Brad Douglas, "Building Trust Within Our Teams"

Bruce Morton, APMP Fellow, "

Creating Killer Win Themes"

Chip Massey, "A Real, Live Crash Course in High-Stakes Communication from a Former FBI Hostage Negotiator"

Cheryl Smith, "Technology and Innovation Suite Sponsored Session: Cringe-Worthy Proposal Experiences are Driving Innovation"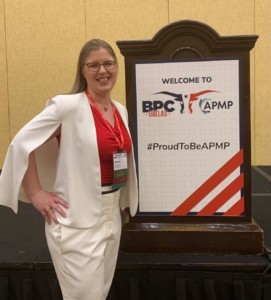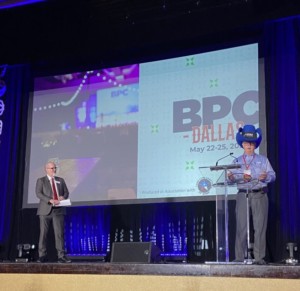 Discussion Panels
There were not only solo presenters, there were also panels and group discussions moving the conversation forward in terms of understanding how to change biases, make real effective change and how different factors in the proposal industry affect us:
Xait hosted a lecture/discussion that involved proposal managers that are well known throughout our organization, including our own Vice President Neal Levene – He spoke in the "Technology and Innovation Suite Sponsored Session: Panel Discussion: How Next Generation Innovation Is Tackling Today's Proposal Manager Challenges"
I mentioned Mike Parkinson earlier, but it's worth mentioning again that along with his 2 presentations, he also led a discussion with Randy Richter, "Predictable Winning: The Science of Evaluation".
Sarah Restin and Samantha Enslen discussed how the way words are presented can be the difference between winning and losing, in "Power of Writing Fireside Chat with Rick Harris".  I would've enjoyed sitting in on a panel that included Rick Harris!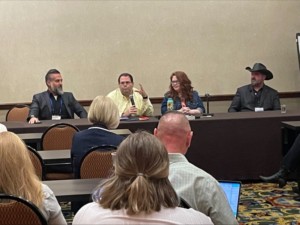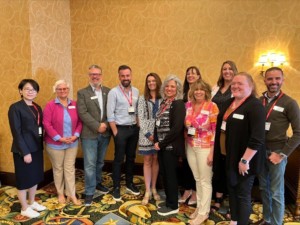 Certification Day
Congratulations to all those who traveled and arrived early to BPC in order to sit and take the Foundation Level Certification exam – and on a Sunday, no less. And a special shout-out to NCA's own Annual Conference Co-chair Allie Murray for receiving her Foundation Certification!
APMP recently introduced the updated and modified Practitioner Certification exam before COVID-19 hit, and I have heard that it is not an easy exam, so I appreciate seeing APMP holding a full-on almost half-day Practitioner Certification training session during the conference. My goal is to take the Practitioner exam within a year, and I would've loved to have taken the opportunity to attend that primer session had I been in Dallas.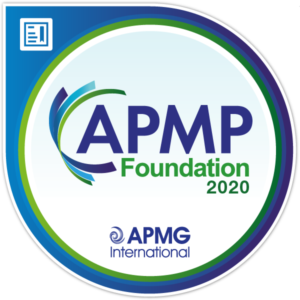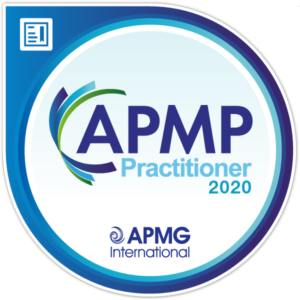 Announcement of APMP Women's Virtual Summitt
I'm so excited to hear more about this! APMP's Julia Duke announced that they will be holding the first APMP Women's Virtual Summit on August 4, 2022. Women are a dominant force in the proposal industry and I love that we're taking the initiative to create a summit to recognize our contributions and how we win bids! I can't wait to see the lineup of speakers and be inspired by all the fierce ladies in our industry – where do I sign up?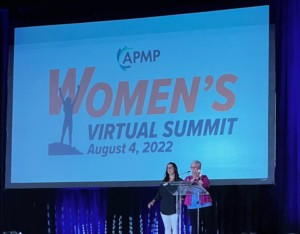 Networking 
So I missed the BPC Regi-ception, the TARA, and the NCA Chapter Social Mixer. :(
Judging from this picture, our chapter sure knows how to have fun! I definitely missed being at this Happy Hour and seeing fellow chapter members in a social setting – I'll have to catch back up with you guys here in DC! I wonder what was going through Ros' mind here?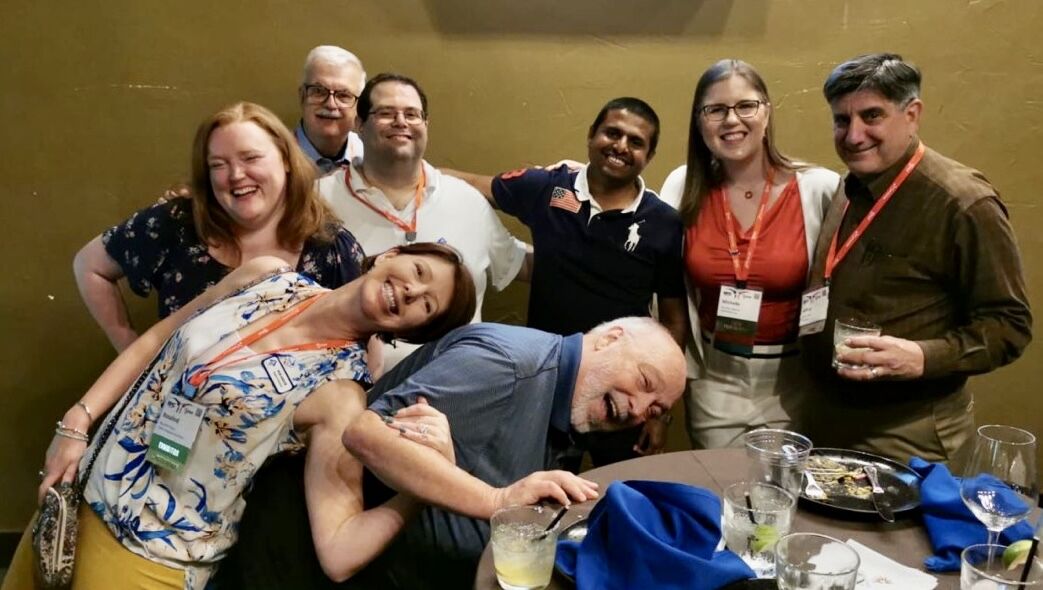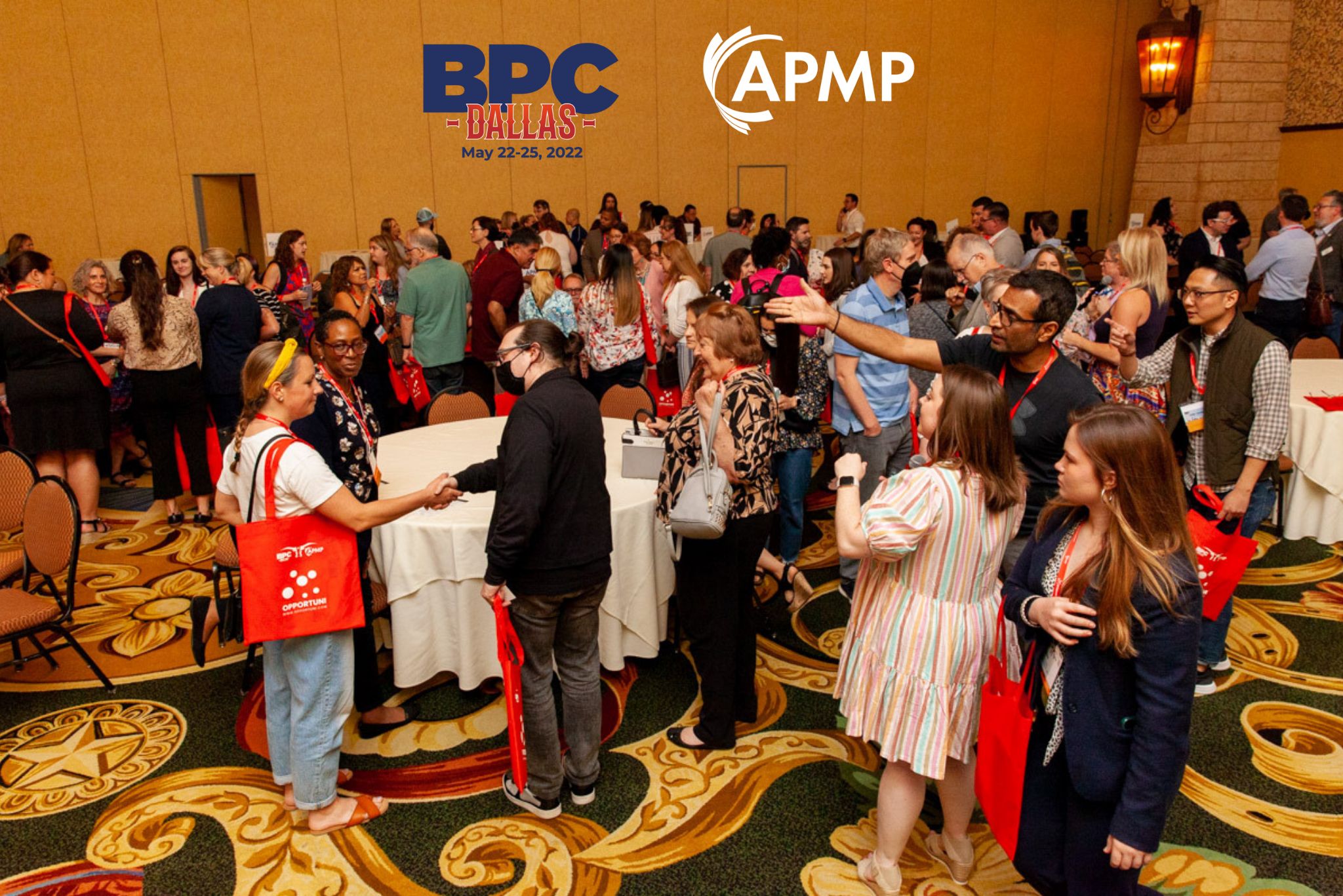 Local Celebrity Baskar Sundaram
If you were at BPC and you didn't run into and take a picture with Baskar, then what were you doing? It seems like we had our own "Where's Waldo?" at BidCon, with Baskar showing up in so many places – and he certainly left his mark! 
Baskar's attendance at BPC was a celebrity sighting in its own right – I saw so many pictures of him and other attendees, and they were all having the times of their lives. I admire Baskar and his contributions to our industry so much, and I was sorely disappointed to miss the chance to meet him in person!
Baskar is even holding a contest on LinkedIn where those pictured with him in his most-liked selfie from BPC will win a $100 Amazon gift card! And one other lucky winner who liked the selfie post will win $50 – selected at random. The contest is open until May 31st Midnight UK time.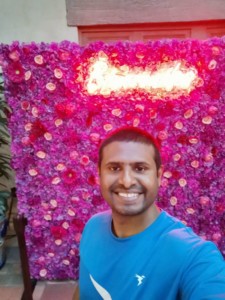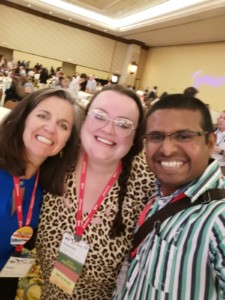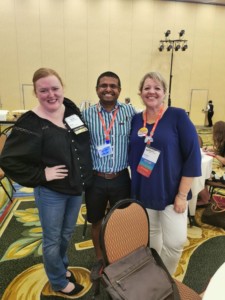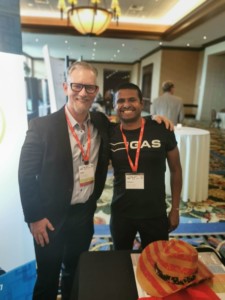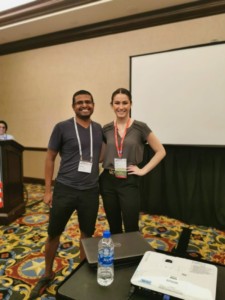 Chapter Leadership Award Presented to Rebecca Link
The highlight of my week was seeing our former NCA Chapter President Rebecca Link get the recognition she deserved. Rebecca served on the board in probably nearly every capacity you can imagine. Her leadership set us on a path where we could expand our list of services to our members; her encouragement spurred the creation of the Graduate Pathway Program, which helps mentor students from nearby schools and helps set them on the intentional path to proposal development. Rebecca also put our Mid-Atlantic Conference on the map, making this our chapter's flagship event that now spans two days and welcomes over 300 participants each year. We miss you, but you left us in great hands!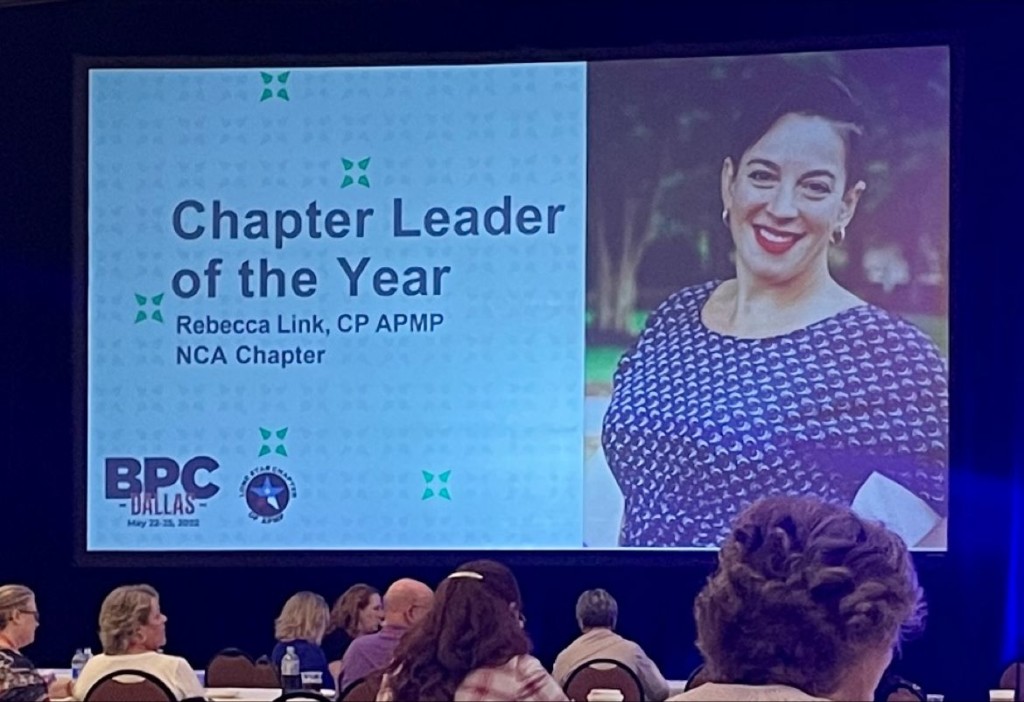 Now that Dallas is a wrap, I'll just plan for next year. Orlando, here I come!