by Mike Parkinson, APMP CPP Fellow
I have the honor of teaching graphics, PowerPoint, and solutioning around the world. In my workshops, participants and I share our favorite free and low-cost stock image websites. The following is a list I compiled from recommendations and from my experience with the sites.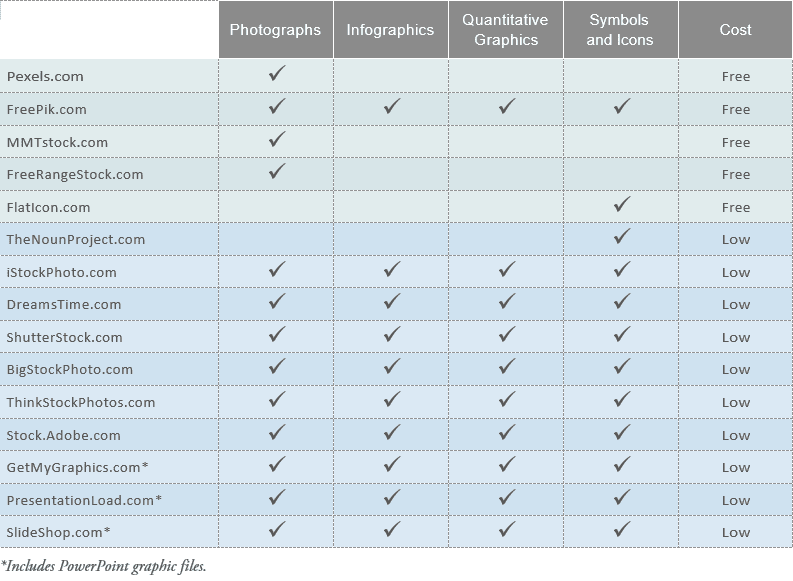 To save time and money and to ensure that there are no potential copyright issues, use a low-priced stock image website instead of a free site. Finding the perfect imagery fast is key for me because time is money. The more time I spend searching for what I need, the more money is "spent" on that graphic. Traditional fee-based sites contain a better selection of professional content and offer worry-free usage rights.
There are amazing free graphic sites. However, the image selection on free websites is relatively limited, and the rights do not always accommodate commercial use. Additionally, free sites are often linked to fee-based websites. When I find the perfect picture, I may be required to pay because it is offered through a partner, which defeats the purpose of using this time to search through the free resource. I sometimes start with a free site that I trust and, if I don't quickly find what I'm looking for, switch to a traditional stock image site.
Do you have a favorite website for images, videos, sound files, Power- Point, or other assets you use in presentations and marketing materials? Please share, and I'll make it available to help others.
Thank you and good luck!