I'm doing something different this time (as is everyone in the world). Rather than write my standard article, I'm sharing some of my PowerPoint coronavirus response and healthcare icons and symbols. My hope is twofold:
Empower people like you to educate others about pandemic response best practices. These royalty free images can be used in any way you choose. Use them in proposals, infographics, presentations, learning materials, and other media. You can also share this entire PowerPoint deck with anyone and everyone. Hopefully, in some small way, we will help save lives.

The more barriers we remove to help people do the right thing, embrace proper planning, and adopt safer habits, the healthier we will be as a state, country, and world.

Educate people about the power of visual communication. COVID-19 isn't the only important topic. Other critical issues and dangers exist and persist. Clear, compelling graphics make a difference in helping your audience quickly understand new information. (Check out this graphic from The Washington Post that uses animated dots to help clarify the health benefits of social distancing.) During press conferences, state governors are using PowerPoint presentations (some more successfully than others) when they discuss strategies and issues, because visualizing a narrative improves outcomes such as motivating their constituents to follow pandemic guidelines. Appropriately combining words and images is a recipe for success—especially in our "at a glance" society.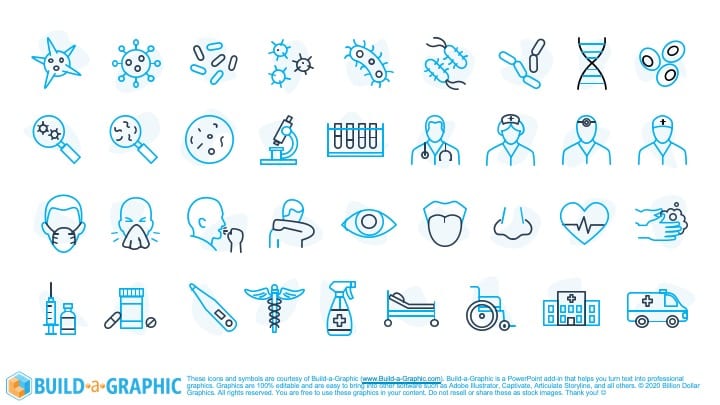 Finding the time to design professional graphics and presentations can be a challenge that is why I included a link to a tool called Build-a-Graphic within the PowerPoint slides. I enlisted my fellow Microsoft MVPs to help design this tool so you can easily create professional graphics to improve audience understanding, recollection, and adoption. Our hope is that this tool will empower everyone to use visuals to help others learn, grow, and be safe.
If you have any questions about anything I have shared, please email me at mike@24hrco.com. It is my pleasure to help you in any way I can. Be safe, healthy and enjoy.